American Pickers
Erik L Dorr
During the History Channel's Civil War week earlier this month, their hit TV show American Pickers with Mike Wolfe and Frank Fritz paid a little visit to The Gettysburg Museum of History, owned and operated by my friend Erik Dorr. The Civil War artifacts Mike and Frank "picked" on one of their many antique scavenger hunts have been donated to the museum and are now on display to the public. Erik has been a longtime collector of American History, beginning with battlefield relics on his family farm near Gettysburg. For over thirty years, he has specialized in historical artifacts and Americana – especially objects related to the life and presidency of John F. Kennedy (which becomes quite evident while touring his museum). Today, we'll be taking a closer look at some of the items the Pickers attained for Erik's museum.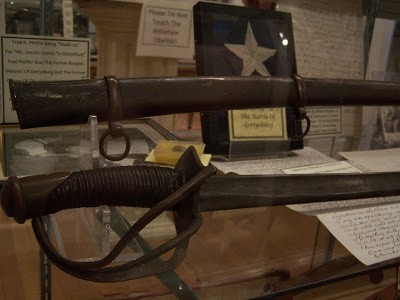 One very rare item now on display is a Confederate-made Dog River Saber – on loan from a Confederate collector. A number of these originals were crudely made in one form or another due to the Confederacy's incapacity to mass produce weaponry on a large scale. Usually extending about three feet in length, it is not uncommon for vintage swords like this to sell in excess of $2,000 to $3,000 at auction. Confederate edged weapons remain much more valuable than northern swords and such due to their comparative rarity. This is because 1) Many Confederates were commissioned officers in the U.S. Regular Army in the years before the Civil War and most retained their personal weapons from their early careers. 2) A fair portion of southern troops confiscated munitions and related items from captured Federal soldiers and stockpiles and 3) Far less plants and factories in Dixie existed that could have manufactured such materials.
As to the Dog River Arsenal itself, the arms factory was reportedly in the Mobile, Alabama vicinity. Many of the existing Confederate-made swords supposedly were manufactured there, though little exists on the history of the site itself. Like many other war-making industries, production was sometimes sporadic throughout the war due to materiel deficiencies and enemy harassment.
Yet another item attained by the Pickers is this Union frock coat in excellent condition. Intended for parade duties and formal events, frock coats were produced from a much more durable and heavy form of wool. Usually having eight to ten buttons on its front, the uniform jacket was professional-looking but not entirely the most comfortable or casual of jackets to sport in the field. For the most part, Federals preferred the four-button blouse jacket customarily worn for fatigue duties and camp life. They were roomy, lighter in weight, and casual. Because of this, most troops were permitted to wear them all the time. Regardless, such coats of any kind are extremely rare since old wool is so susceptible to damp conditions and moths. A great find for Erik's collection! It now hangs beside a Union artillery shell jacket with its trademark red piping.
A closer look at the Union Cavalry Hardee hat Erik is holding in the first photo. The Hardee Hat was the 1858 Regulation hat for formal dress. Though it offered plenty of shade and some protection from the elements (as opposed to the kepi), most soldiers preferred the latter since it was lighter and cooler. In some cases, you can see contemporary (Air) Cavalry members wear a derivative of this headgear. (Remember Colonel Kilgore in Apocalypse Now?)
Cavalry carbines too can be a very difficult item to find. Because of its comparative light weight, rapid fire abilities, and shorter length, this was a preferred weapon of choice amongst horsemen in both armies during the conflict. The weapon proved especially useful to John Buford's 2,800 dismounted cavalrymen on the first day of the battle at Gettysburg. When facing superior numbers in relatively close range, such carbines were good pieces of hardware to have in your hands. The piece of fence below the rifle is a post from the farmstead of Lydia Leister, whose humble white board home became General George Meade's Union headquarters during the battle.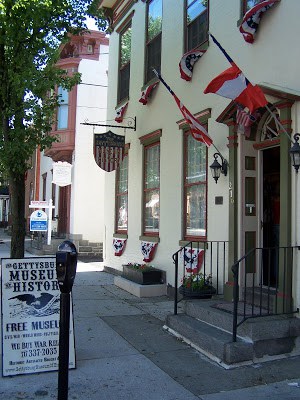 This has been a very small sampling of The Gettybsurg Museum of History's total collections on display for free at 219 Baltimore Street in downtown Gettysburg. Other displays include artifacts dealing with presidents, Civil War, WWI, WWII, Vietnam, and John F. Kennedy History (including one of JFK's suits). If you are a history buff even in the slightest degree, Erik's museum is one place you'll want to check out on your next visit to Gettysburg.