The Museum is actively acquiring artifacts for exhibition. If you have a very special relic from the American Civil War, World War I, World War II, Presidencies and Pop Culture, loaning the artifact to the Museum will allow others to enjoy and learn from your piece of history. Donating to the Museum will keep the relic in exhibition for public education and all to enjoy.
Contact the Museum to learn more.
Not Just Civil War Relics
The Museum is not only seeking to expand its collection of American Civil War artifacts, but also relics for its other current and future exhibitions.  Please contact the Museum if you have:
American Civil War relics
World War I artifacts and war trophies
World War II relics
War of 1812, Korean War, Viet Nam, Iraq and Afghanistan
Property of past and current Presidents, including George Washington, Abraham Lincoln, Teddy Roosevelt, FDR, JFK, Ronald Reagan
Property of pop culture icons, such as Elvis Presley, Marylyn Monroe, Buddy Holly, and other rock and roll and movie stars
Artifacts from ancient history, such as Egyptian mummies, Greek pottery, Roman soldier gear, etc.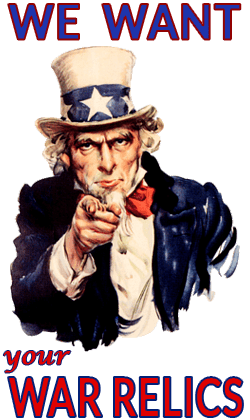 Let Us Know About Your Artifacts