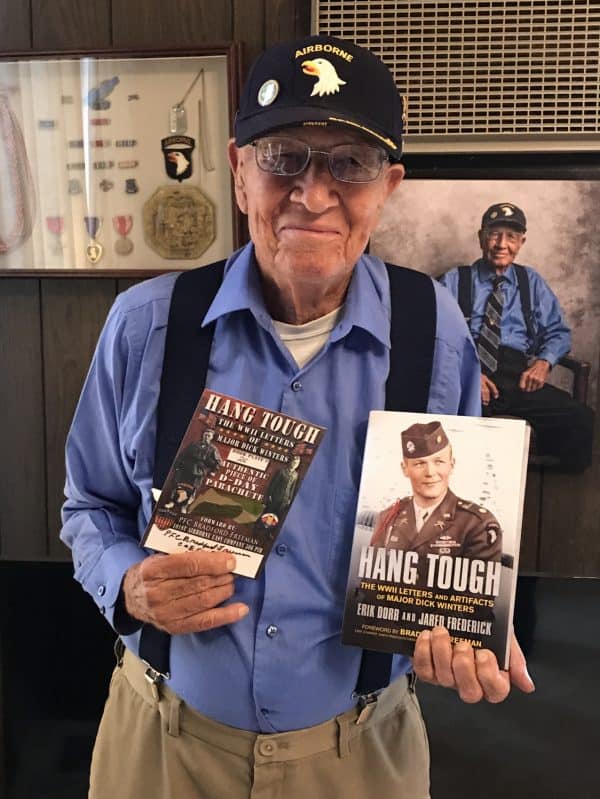 Book Plate Signed By Bradford Freeman (Band Of Brothers) With D-Day Parachute Relic, Hang Tough: The WWII Letters and Artifacts of Major Dick Winters
$70.00
BOOK PLATE ONLY NO BOOK INCLUDED!
Hang Tough: The WWII Letters and Artifacts of Major Dick Winters The compelling WWII correspondence and artifacts of Major Dick Winters, commander of the Band of Brothers. SIGNED BOOK PLATE AND PARACHUTE RELIC ONLY. Book not included. For those who already bought the book and want to add the book plate.
SPECIAL BOOK PLATE HAND SIGNED (Autographed) BY BAND OF BROTHER BRADFORD FREEMAN WHO SERVED WITH MAJOR WINTERS AND WROTE THE FOREWORD TO THE BOOK! VERY LIMITED! ALSO INCLUDED IS A PIECE OF AUHTENTIC WWII US PARACHUTE USED ON D-DAY! This Parachute relic is from the collection at The Gettysburg Museum Of History and was recovered at Saint-Germain-de-Varreville the heart of 101st Airborne drops during D-Day! Includes a COA (Certificate Of Authenticity). Mr. Freeman passed away on July 3rd, 2022.
Major Dick Winters of the 101st Airborne gained international acclaim when the tale of he and his men were depicted in the celebrated book and miniseries Band of Brothers. Hoisted as a modest hero who spurned adulation, Winters epitomized the notion of dignified leadership. His iconic World War II exploits have since been depicted in art and commemorated with monuments.
Beneath this marble image of a reserved officer is the story of a common Pennsylvanian tested by the daily trials and tribulations of military duty. His wartime correspondence with pen pal and naval reservist, DeEtta Almon, paints an endearing portrait of life on both the home front and battlefront—capturing the humor, horror, and humility that defined a generation. Interwoven with previously unpublished diary entries, military reports, postwar reminiscences, private photos, personal artifacts, and rich historical context, Winters's letters offer compelling insights on the individual costs and motivations of World War II service members.
Winters's heartfelt prose reveals his mindset of the moment. From stateside training to the hedgerows of Normandy, his correspondence immerses readers in the dramatic experiences of the 1940's. Via the lost art of letter writing, the immediacy and honesty of Winters's observations takes us beyond the traditional accounts of the fabled 506th Parachute Infantry Regiment's Easy Company. This engaging narrative offers a unique blend of personal wit, leadership ethics, and broader observations of a world at war. Hang Tough is a deeply intimate, timely reflection on a rising officer and the philosophies that molded him into a hero among heroes.
Hang Tough "will help people better understand the man I knew and respected so much. Folks should know what we all went through during the war." —Bradford Freeman, Foreword
See our offering for book only, as well as the special edition book with book plate also on our web site.
Description